The 5 foot Brushshark is designed to match the front width of small and medium frame skid steers and tractors that are typically rated between 30HP and 65HP.  Matching the width of the front wheel span ensures good coverage and minimizes tire and track exposure to uncut brush and trees
61" hydraulic hoses and standard "skid steer" flat face couplings are included. 1 male and 1 female.  Pioneer "tractor" style fittings are available at no additional cost.  Please specify when ordering.  

Universal Skid Steer Mounting ensures easy fitment on ALL skid steers,  and tractors equipped with a

skid steer type attachment carrier.

Common tractor tractor type quick attach like John Deer 200, 300, 400 etc..  Global and Euro Loader are also available For tractors that require this type of quick attachment.   Contact your Brushshark representative at

(512)263-6830

.
Regular price
$5,500.00 USD
Regular price
Sale price
$5,500.00 USD
Unit price
per
Sale
Sold out
Share Us!
View full details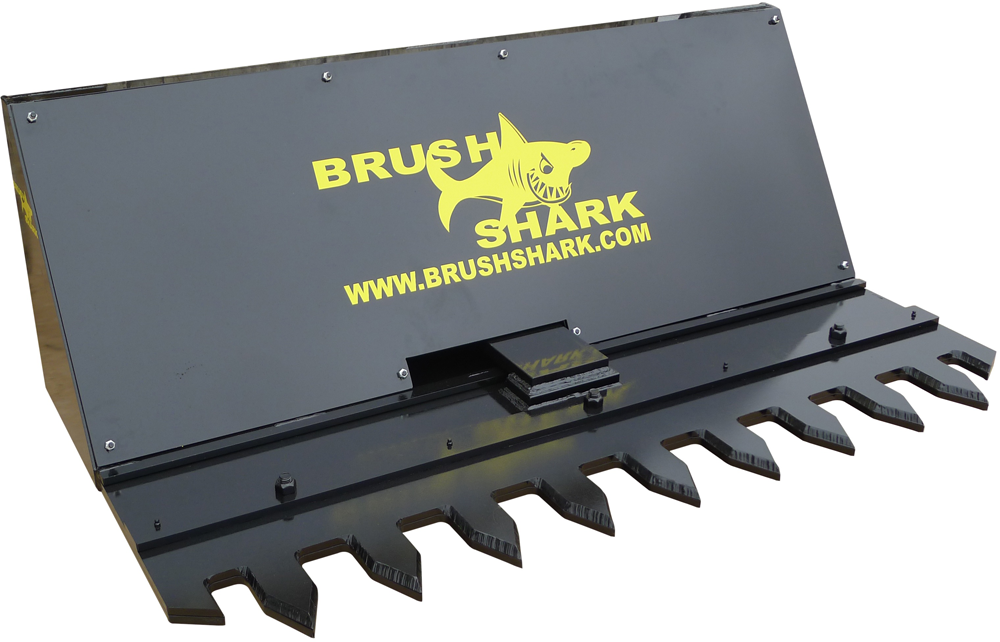 Great for Youpon Brush and Tallow Tree Clearing
Purchased my Brush Shark almost 2 years ago and love it. Works great clearing Youpon and Tallow Trees from fence rows. Also, I've used it to trim the limbs up on live oaks and pin oaks on our farm so that we can drive our farm tractors under the trees without hitting the cabs. Just set my front end loader at the height that I want and then drive around the tree while cycling the cutter. Used to take me all day with a pole saw but now it only takes me about an hour to trim all of the trees up. I even used the Brush Shark to push up the trimmed limbs into piles for easier pickup with my grapple. Great piece of equipment and so useful.
Amazing value and quality for the price.
Contacted Steve as I was interested in a Brushshark for removing cedar on family owned land. Steve was kind enough to invite me over to his land for a demonstration but also offered to bring one out to our land. Since I was going to be in the Blanco area for a day, I decided to go over to his ranch for a demonstration. Steve showed me how easy it was to hook up a Brushshark to a skid steer and proceeded to give me a few pointers. After a few minutes he let me get behind the controls and take some cedars off of his land. Was amazed at how fast and easy it was to get the hang of. I went ahead and purchased one on the spot. That was two years ago and have never regretted my decision. Have also used my Brushshark to clear away some pine saplings in East Texas.
Any questions I have ever had, Steve has taken the time to answer to complete satisfaction. The Brushshark is a quality built tool and excels at its intended purpose. If you need to clear cedar or saplings on your land, contact Steve and go see for yourself. You wont regret it!
Steve was amazing!
I've been running the Brush Shark on the front end of our Kubota tractor, clearing out cedars and yaupons with ease. Easy to hook up, easy maintenance with very accessible grease fittings and powerful enough to chew through cedars as big as 12" diameter if you have the patience to gnaw at it for a bit!! Definitely worth every penny!
Great reliability
I'm in the construction business and have had experience with nearly every type of equipment available. When it comes to equipment, reliability and build quality is everything. We have had nothing but positive experiences with our two Brushsharks. Our 6-foot Tree Trimmer and Brushshark both do the job. The company's website describes what can be done with their product. My experience has been that the implements outperform the claims made.
The build quality is amazing. The welds are solid and the blades seem to last forever. We hook our units up to our Bobcat skid-steers using the integrated high-quality quick-release fittings. The hydraulic actuating piston is strong and, once you get good at using the Brushshark, you can clear quickly and efficiently.
My final point has to do with customer service. These machines are made in the USA. Blanco, Texas, to be exact. Try buying any implement and then, when you have a question, talk to the owner of the company. It isn't going to happen. Then there is Brushshark..... After having my machine for a couple months, we pinched a hose when loading the Brushshark onto a flatbed. I wanted to get the exact high-quality hose with fittings that came with our Brushshark to replace our damaged one. So, on a Saturday afternoon, I called Brushshark and, low-and-behold, the OWNER answered the phone! When he answered the phone, he was working on his child's go kart. Even though he was spending time with his son, Steve spent at least fifteen minutes talking to me about Brushshark, my business and how we use what we purchased from him. At the end of the conversation, Steve promised to send me a replacement hose first thing Monday morning. I got the hose via Fedex Tuesday before 10am. Absolutely amazing! I'm a customer for life!
I cannot recommend this company enough!
Great Product
Great product - really takes care of those crazy cedars FAST. Owner was nice and honest.