The 6 foot Brushshark is designed to match the front width of small and medium frame skid steers and tractors that are typically rated above 65HP.  Matching the width of the front wheel span ensures good coverage and minimizes tire and track exposure to uncut brush and trees.
61" hydraulic hoses and standard "skid steer" flat face couplings are included. 1 male and 1 female.  Pioneer "tractor" style fittings are available at no additional cost.  Please specify when ordering.  

Universal Skid Steer Mounting ensures easy fitment on ALL skid steers,  and tractors equipped with a

skid steer type attachment carrier.

Common tractor tractor type quick attach like John Deer 200, 300, 400 etc..  Global and Euro Loader are also available For tractors that require this type of quick attachment.   Contact your Brushshark representative at

(512)263-6830

.
Regular price
$6,500.00 USD
Regular price
Sale price
$6,500.00 USD
Unit price
per
Sale
Sold out
Share Us!
View full details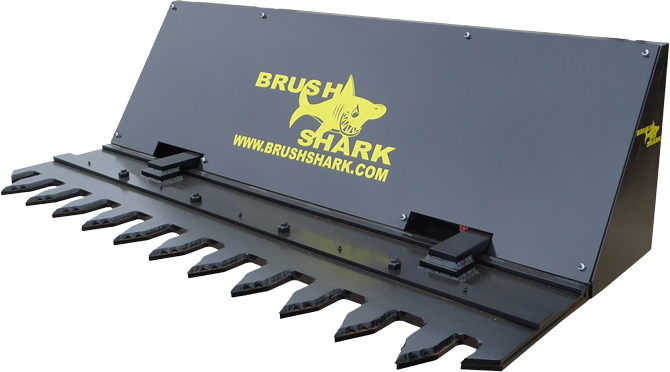 Cleared the land flawlessly.
Purchased a Brushshark about a year ago. It has solved all of my small to medium sized brush removal needs on my hill country ranch. Have never needed to sharpen the teeth. Have about 300 hours on the implement. Works steady and trouble free. Great product.
Great demo and quality
For all the folks out there that have land and want to clear cedar and under growth. This shark does the job time after time My first shark is three years old and still running strong. I just bought my second one to go with another bobcat. I love this shark because it saves a lot of time from not having to stoop over and cut with a chain saw.
All around AWESOME
Easy to get used to. Good support. Handles much larger than advertised. Steve's a good guy to work with. Product and service clearly outpace the competitors .... you can handle much bigger projects than you think. Definitely get auto cycle.
Cleared the fence line!
Love my Brushshark. This thing is a beast! I've already cleared 8,000 feet of fence line.
It's dang good
How good is the feeling when you step back and look at the big pile of brush, and cedars. "It's dang good", that's how good it is!
I purhased a Brushshark several years ago, and put it to work clearing cedars, and brush on our property near the Red River. I recommend anyone considering a brush cutter to work their ranch, farm, or property that is budget minded take a look at one.